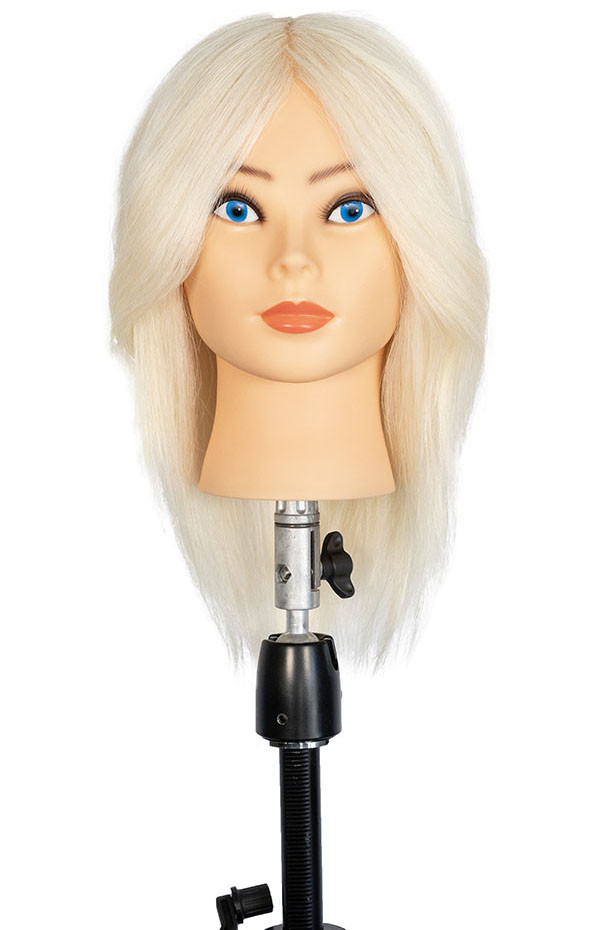  
ADÈLE pro yak styling head
Our professional Adele styling head is an Exalto must-have for hairdressers wishing to develop their creativity and deepen their color technique training.
This 100% white yak hair training head is ideal for your special color training as well as for testing your coloring products.
We always recommend practicing color techniques on a professional light-hair styling head for visible results and pushing your creativity. Our 100% white yak hair Adele professional training head lets you push the limits of your creativity and try out flashy coloring, for fast results and a guaranteed style!

Our mannequin Adele head has a hair length of 30cm, allowing you to perform several stages of cutting, as well as learning color techniques or do color tests. This product has a density of 220-240cm/hair. This is an excellent density for all types of hairstyling.
You can achieve any coloring technique on our Adele professional styling head (flashy coloring, coloring with ash tones, dark root tones, reddish style, dark highlights and streaks, colored shades...). The white yak hair training head is stronger and thicker than natural hair, so you can explore different coloring techniques without the risk of damaging the hair or getting no results at all. We strongly advise against bleaching this style of material, as white yak hair is not at all suitable to this type of technique.
If you opt for a 100% natural hair training head for your coloring techniques, you should be aware that .
- the lighter the color of your professional head's hair, the more fragile they are : you'll need to handle it with care, using appropriate hair care products.
- On the other hand, the darker the color or highlights of your professional mannequin head, the less the hair has been damaged (hair with a level 3 tone has not undergone any treatment and is therefore 100% natural) it will also be more resistant to styling, coloring, heat, brushing...
A styling head should be chosen specifically according to your needs: 100% natural human hair styling heads for styling, coloring techniques on white yak hair, coloring techniques on natural blond hair, highlights etc…



Our professional Adele styling head in 100% white yak hair is part of Exalto's premium range, the highest quality available. Unique to Exalto, the Adele professional styling head is only available in this product range. You can also order our Alice professional styling head, also with 100% white yak hair, but with a bust, for your hairdressing competition training.

Note: yak hair doesn't have a bulb, so the implantation of hair on this styling head is different. As a result, yak hair training heads shed hair more easily.


All our mannequin heads, whatever the range, feature natural hair of Indian origin with good value for money. Exalto makes it a point of honor to provide you with the best quality hair at affordable prices ! That's why our hair mannequins need to be shampooed and cared for after each use. The natural, human hair on our professional styling heads needs to be treated so that its length, density and quality is maintained over time
Last but not least, all our professional styling heads are one-of-a-kind models, each human hair implantation is handmade, and each women's mannequin head is designed and engineered in France by our team.

Delivery of our professional styling heads and hair products for hairdressers takes 2 to 3 working days in France (free shipping for orders over €220).
Delivery of our 100% natural hair styling heads and hair accessories for hairdressers and trainers takes 3 to 7 days within Europe (free for purchases over €220).
Find all information about our professional hairdressing products: delivery times, prices, care and maintenance here.
Here you'll find the right hairdressing equipment at the best value (vice, tripod for stable hairstyling) for use with all our professional products (100% natural hair styling heads, women's naturel hair for coloring, cutting curls, afro, men's cuts...).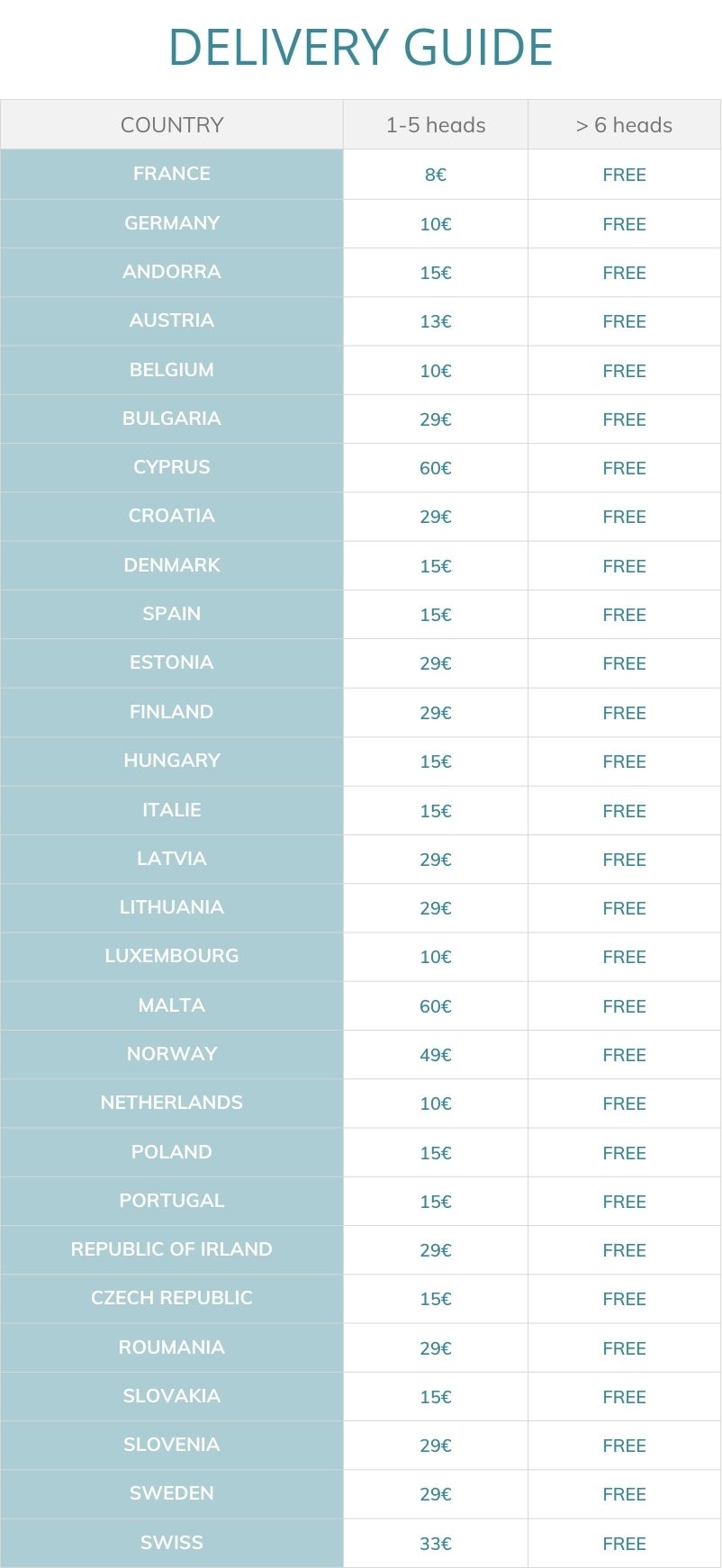 What's normal

All our products are handmade, so it's perfectly normal for you to experience slight changes from one product to another:
Our mannequin heads also have white hair, which is completely normal. They come from women in India who give their hair to Chiva. These women have white hair just like us, which is why you will certainly see some on our styling heads.
As our products are made by hand, the faces of our styling heads sometimes have a few small marks that can easily be removed with soap or nail varnish remover!
Sometimes you'll see little white flakes on the scalp of your styling head, but don't worry, these are just little specks of glue.
Occasionally, the hair on your mannequin head may be slightly sticky, in which case we've put too much conditioner on the hair. Don't hesitate to wash your mannequin head once to remove the excess product.
The hair on your mannequin heads may gradually fall out over time, which is completely normal.
What's not normal?

It may happen that the head has visible problems when you unpack it (implantation, deformation...), send us an email on amandine@exalto-professionnel.fr accompanied by photos so that we can advise you as best we can.
Do not use your product (application of products, colour, hairspray, haircut, etc.) if you wish to return it.

Steps to take:
Apply shampoo and conditioner after each use
Brush your head gently with a suitable brush from the scalp to the ends.
Before colouring or bleaching your mannequin head, test a strand of hair to check that the technique used is suitable for the hair
Apply a heat protector before using heating appliances on your hair
What not to do:
Do not attempt to bleach a mannequin head of hair above a tone height of 8
Do not attempt to bleach a mannequin head with yak hair or synthetics
Do not use heaters (straighteners, etc.) at more than 200 degrees.
Avoid bleaching or colouring your hair for buns, as this can damage the hair more quickly
Do not brush your head intensively, as this may cause the hair to pull out
Do not use colouring or bleaching techniques that are too strong (too long exposure time, too strong oxidants, etc.), which would not be suitable for salon clients. The hair on our heads is natural and human, so it should be treated in the same way as a salon client.
Never leave styling products (hairspray, etc.) on your head for several days.
FAQ
WHERE DOES YOUR HAIR COME FROM ?
+
HOW ARE OUR MODELS CREATED ?
+
WHAT ABOUT DELIVERY (DELIVERY TIME & PRICE)?
+